The Book of Miracles (Hardcover)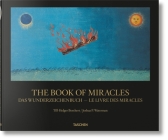 $50.00

Available to SHIP now; STORE PICKUP in 7-10 days
This book cannot be returned. PRINT-ON-DEMAND; printing may add 2-4 business days.
Description
---
The Book of Miracles first surfaced only a few years ago and is one of the most spectacular discoveries in the field of Renaissance art. The near-complete illustrated manuscript, created in Augsburg around 1550, is composed of 169 pages of large-format illustrations in gouache and watercolor, depicting wondrous and often eerie phenomena. The mesmerizing images deal with both biblical and folkloric tales, depicting stories from the Old Testament and Book of Revelation as well as events that took place in the immediate present of the manuscript's author. From shooting stars to swarms of locusts, terrifying monsters to fatal floods, page after page hypnotizes with visions alternately dreadful, spectacular, and even apocalyptic. This volume presents the revelatory Book of Miracles in a new, compact format, making this extraordinary document accessible to everyone. It comes with a translation of the manuscript texts and two essays that give an introduction to the cultural and historical context of this unique Renaissance work.