Little Sunny Sunshine / Sol Solecito (Canticos) (Board Books)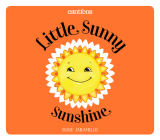 For price, please email Orders@booksandbooks.com
Description
---
Little Sunny Sunshine/Sol Solecito is the 6th book in the bilingual (English & Spanish) nursery rhyme collection from Canticos.
Inspired by "Sol Solecito" and "Luna Lunera", this book features an adorable little piggy who spends his days soaking up the sun and enjoying every moment of the day.
Canticos animated videos are now streaming across Nickelodeon's digital platforms. Watch them now at nickjr.com/canticos
Concept: Days of the week as well as day/night and today/tomorrow.
Format:
Novelty book with an accordion fold so the book can be opened completely and laid flat or made to stand so children can surround themselves with the story.
Interactive lift-the-flap and turn-the-wheel features.
Reversible with the original Spanish song on one side and an English adaptation on the other side.
Comes in a slipcase.
Children can also download the FREE companion app at canticosworld.com/apps/ as well as watch the sing along video at canticosworld.com/videos
Book summary: In this book, we meet a little piggy who celebrates the radiance of the sun along with the dreamy wistfulness of the moon.
About the Series: Canticos is a collection of the most beloved nursery rhymes and children's songs from all over the Spanish-speaking world. Canticos creates bilingual books, apps, and sing-along videos.
About the Author
---
Susie Jaramillo is an artist, creator, brand builder and mom raising 2 bilingual children. Jaramillo majored in painting and illustration at the Pratt Institute in Brooklyn and recently left the advertising world after a successful 15+ year career to apply her brand building and storytelling skills to the world of family entertainment and education.