Visionaire 68 Now!: Collector's Edition (Hardcover)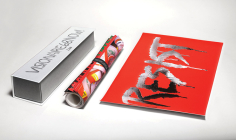 $1,300.00

Available to SHIP now; STORE PICKUP in 7-10 days
This book cannot be returned. PRINT-ON-DEMAND; printing may add 2-4 business days.
Description
---
Taking inspiration from this essential tool of modern political activism, Visionaire recontextualizes the protest poster as art object, albeit one with a practical purpose. This edition--published in an edition of 200 numbered copies, expertly printed on exhibition-standard canvas using archival ink-jet printing--is comprised of ten images with text that address the current state of the world. Contributing artists are Nan Goldin, Zoe Buckman with Hank Willis Thomas, Candice Breitz, Kim Gordon, Martine Gutierrez, Vivienne Westwood, Katerina Jebb, Tiona Nekkia Mcclodden with Pusha T, Marilyn Minter and Faith Ringgold; the posters themselves measure 17 x 22 inches.
Visionaire 68 Now
exploits the democratic power of art and the traditional, political imperative of the protest poster. The works in this edition are intended to be used on the streets of our cities and towns to proclaim what we hold dear.