Unikkaaqatigiit (English/Inuktitut): Arctic Weather and Climate Through the Eyes of Nunavut's Children (Paperback)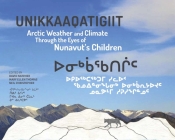 $12.95

WE CAN ORDER THIS FOR YOU (store pickup in 5-14 days)
Description
---
Compiled from writing, poetry, and illustrations created by young Nunavummiut, this anthology explores diverse aspects of the theme of weather from Inuit mythology to traditional knowledge, climate change, and daily survival.
These creative works, created as part of an Arctic Weather Centre contest in the mid-1990s, are gathered here for the first time, and are accompanied by helpful information about each community represented.
Through full-colour illustrations and engaging poetry and stories written both in Inuktitut and English, learn more about the vital force of Arctic weather as seen through the eyes of children.

About the Author
---
Neil Christopher is an educator, author, and filmmaker. He first moved to the North many years ago to help start a high school program in Resolute Bay, Nunavut. It was those students who first introduced Neil to the mythical inhabitants from Inuit traditional stories. The time spent in Resolute Bay changed the course of Neil's life. Since that first experience in the Arctic, Nunavut has been the only place he has been able to call home. Neil has worked with many community members to record and preserve traditional Inuit stories. Together with his colleague, Louise Flaherty, and his brother, Danny Christopher, Neil started a small publishing company in Nunavut called Inhabit Media Inc., and has since been working to promote Northern stories and authors.