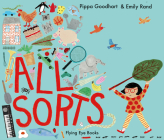 Description
---
Organizing is Frankie's favorite thing to do in the whole wide world. She is good at sorting different sets of flowers, she is great at classifying the contents of the fridge, and she even attempts to put the people on her street into groups (which is hard!). But the one thing Frankie cannot seem to sort . . . is herself!

Where does one little girl belong in a world of endless colors, shapes, and sizes? From bestselling author Pippa Goodhart and illustrator Emily Rand, join Frankie in her search for her perfect place in the world . . . and discover that it's the mixed up, muddle of life that brings us all together.
About the Author
---
Pippa Goodhart grew up in Grantchester, England, and has published over 90 books in her career. She is best known
for her picture book You Choose and the Winnie the Witch storybooks. Pippa has been longlisted for the Kate Greenaway Award, won the 2011 Mumsnet Children's Book of the Year for 3-4 Year Olds and was shortlisted for the Young Telegraph Book of the Year award.

Emily Rand is an illustrator of six children's books from the United Kingdom. Her inspirations come from real life--whether it is a busy city full of people, a peaceful garden, or a colorful coral reef. Specializing in a limited color palate, she is inspired by vintage children's books from the mid-20th century.

The illustrations for her first book, A Dog Day, were selected for the Bologna Children's Book Fair exhibition in 2012. Emily has a background working in arts education, schools, and galleries. She currently runs workshops for children and adults about book making and illustration.
Praise For…
---
"A book that embraces both the beauty of being unique and the diversity of our world."
—Mutually Inclusive