The Art of The Addams Family (Hardcover)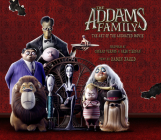 For price, please email Orders@booksandbooks.com
Description
---
The official art book for the animated movie The Addams Family.

Based on the famous New Yorker creations of Charles Addams, this animated action-comedy will follow the Addams family - parents Gomez and Morticia, children Wednesday and Pugsley, Uncle Fester, Grandma, Cousin It, faithful butler Lurch and helping hand Thing - whose lives begin to unravel when they face-off against a crafty reality-TV host while also preparing for their extended family to arrive for a major celebration, Addams-style. This companion book is full of concept designs, storyboards and production art, alongside insight from the artists, filmmakers and directors.
About the Author
---
Editor in chief of Animation Magazine, and former senior editor at Daily Variety, Zahed has been covering the entertainment industry for over 15 years. As well as writing The Art of The Iron Giant, Home, The Little Prince, Rise of the Guardians, Puss in Boots and The Art of DreamWorks Animation, Zahed has written for the Los Angeles Times, Hollywood Reporter, LA Weekly and Movieline Magazine on film, animation, vfx and TV.
Praise For…
---
"A colorful look at adapting a classic property for a modern audience while staying faithful to the source material and a good survey of the current CGI animation process" - Borg.com 

 "so much incredible art packed between the cover of this book" - Adventures in Poor Taste 

"you'll cherish this book and how it honors both past and present takes on this family" - Geekisphere