The Little Prince: The Art of the Movie (Hardcover)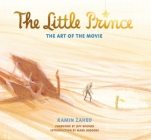 $34.95
WE CAN ORDER THIS FOR YOU (store pickup in 5-14 days)
Description
---
The art of Antoine de Saint-Exupéry's iconic masterpiece, The Little Prince, has been celebrated around the world for over seventy years. Now, Kung Fu Panda director Mark Osborne has brought the first-ever animated feature film adaptation of the children's classic to screen, with voice talent that includes Marion Cotillard, James Franco, Jeff Bridges, Rachel McAdams and Benicio del Toro. This fresh take on a legendary tale blends intricate stop-motion animation with carefully crafted CGI to bring a whole new story to life – that of a little girl forced to grow up too fast in a world that has its priorities backwards. That is, until she meets the Aviator from Saint-Exupéry's story and is drawn into the rich, vibrant world of the Little Prince.
 
Packed with never-before-seen designs and plenty of behind-the-scenes secrets, The Art of The Little Prince captures the breathtaking magic of the movie. With hundreds of stunning images, this book gives fans an all-access pass to The Little Prince – see how the visuals develop from page to screen, enjoy fascinating insights into the creative process and watch an incredible story unfold through its production art.
About the Author
---
Ramin Zahed is the former editor-in-chief of the Los Angeles-based publication Animation Magazine. He has been covering the animation and visual effects industry for over fifteen years. Before joining Animag, he was senior editor at Daily Variety and PBS. His articles on different areas of the entertainment business have also appeared in The Hollywood Reporter, Los Angeles Times, Wired, and Emmy Magazine. His recent books on animation include The Art of Home, The Art of Rise of the Guardians and The Art of Puss in Boots.
Praise For…
---
 "This book looks and feels like a piece of art in and of itself, while also providing a great deal of behind the scenes information you couldn't get otherwise." - Adventures in Poor Taste 

"It's a book about process: how they designed the characters, the settings, the color schemes, and (eventually) the entire, remarkable world of this very special film." - Flavorwire Gift Guide

"Anyone with an interest in animation and how movies are made absolutely needs to have this art book in their library. Anyone who simply likes to look at beautiful things can't go wrong either." -  VG Blogger

"The landscapes conjured by director Mark Osborne and his team are imaginative delights" - The Film Stage

"This tome is loaded with concept art, stills, storyboards, character design sketches, and much more. And it's not just a picture book, often noting how the process impacted the final product." - Roger Ebert.com

"Fans of The Little Prince and just animation in general should definitely pick this book up." - Retrenders

"Truly, truly excellent." - Artbook Passion

"Anyone with an interest in animation and how movies are made absolutely needs to have this art book in their library. Anyone who simply likes to look at beautiful things can't go wrong either. It's both fascinating and inspiring to read about the movie-magic tricks that were used to bring texture, lighting, effects, and different styles of movement to the stop-motion sequences, and to see the process of how a single scene comes together, from painting, to storyboard, to color script, to final render, right before your eyes. The care and passion that went into bringing The Little Prince from book to the Hollywood stage jumps off of every page. If the art book is an accurate indication, moviegoers are in for a marvelous treat." - VG Blogger gift guide