How we built a Tree House (Hardcover)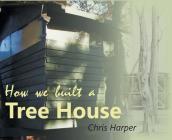 For price, please email Orders@booksandbooks.com
Description
---
Great trees may from little acorns grow - but it takes time. And like those mighty trees, this "great" book has taken a long time to come to print; ten years in fact. The inspiration was Vic - my father-in-law - who wanted to build a tree house in the back garden for his grandchild. Sadly, very sadly, Vic was taken from us by Motor Neuron Disease. This book tells how my wife and I built the tree house; not as smoothly as he would have built it, but still with a great sense of achievement.
This is the 10th anniversary of Vic's passing, and it seemed an appropriate time to have the book published (the manuscript and drawings had gathered dust for 10 years).
It is a story, not a manual for building a tree house. It tells of our trials and tribulations in realising Vic's idea. May it encourage you to do the same.
For every book sold we will make a donation to the Victor Gray Tribute Fund which supports research into Motor Neuron Disease. Even if you do not buy this book, but still want to make a donation to this very worthy cause, go to
https: //www.justgiving.com/remember/86439/Victor-Gray