The Paleoart of Julius Csotonyi (Hardcover)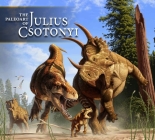 $34.95

NOT IN STOCK,,, but we can attempt to get it
Description
---
The collected works of Julius Csotonyi, one of the world's most high profile and talented contemporary paleoartists. Csotonyi has considerable academic expertise that contributes to his stunning dynamic art.

Csotonyi represents the natural world photorealistically and has been influenced by natural history illustrators such as Peter Zallinger, Doug Henderson and Greg Paul. He uses bold patterns and colors to paint the prehistoric world both with traditional media as well as modern digital techniques.
About the Author
---
Julius T. Csotonyi, PhD., Natural History Illustrator and Paleo-artist

Julius began illustrating dinosaurs seriously in 1998. Since then he has produced work for 25 publishers and museum exhibits, with a client list that includes National Geographic; Scholastic Inc; the Royal Tyrrell Museum; and the Houston Museum of Natural Science. Julius also has considerable academic expertise, having completed both a BSc in Ecology and an MSc in Environmental Biology.
Praise For…
---
"Titan Books, a British publisher best known for its film and television tie-ins and graphic novels, has recently dedicated two volumes to the work of exceptional modern palaeoartists." - Palaeontologia Electronica 

"Julius Csotonyi is a gifted paleoartist who truly breathes life into long extinct creatures with his artwork. The Paleoart of Julius Csotonyi would be a welcome addition to any dinosaur lover's bookshelf." - GNN

"A rare beast of an art book: It's visually incredible, of course, but it's also content-rich, exhilarating, inspiring, and eye-opening." - Geek Dad

"100 illustrations that just ignite the imagination." - Junkyard Arts 

"No matter how much of Csotonyi's art you've seen, nothing compares to his new book...Csotonyi's glossy new collection isn't so much a gallery as a tour through life's storied history." - National Geographic

"Should you buy this book? Absolutely. I will happily say it's on my Top 5 list of Paleoart books people should own." - Scientific American

"Stunning Works of Paleoart Bring Dinosaurs To Life." - Fast Company

"If you know a child who is just crazy about dinosaurs, then this book will bring hours of pleasure. But The Paleoart of Julius Csotonyi is so gorgeously presented and packed full of fascinating information, it's just as likely to appeal to adults, too." - Huffington Post

"Julius Csotonyi is one of those rare breed of scientific illustrators who is able to combine anatomical accuracy and scientific detail with vivid imagination and a flare for the digital medium... This makes an excellent addition to a dinosaur fan or general reader's book collection." -  Everything Dinosaur

"They may be long extinct, but thanks to one paleoartist dinosaurs have now been resurrected in stunning and terrifying detail." - Metro International

"This book is a wonder because it captures your imagination and drops you right in the middle of a very real world." - Adventures in Poor Taste

"Stunning 'Paleoart' will beam you back into a ferocious prehistoric world." - Huffington Post

"Amazingly vivid...illustrates the dinosaurs — and many of the beasts of millennia ago — in beautiful, spectacular and vicious style." - Wired.com

"Awesomely life-like!" - Dino Action Magazine 

 "I'll do a more detailed review later this week. However if you like palaeo-art and/or specifically the work of the modern master Julius Csotonyi buy this book. It contains the majority of Mr. Csotonyi's pieces. They are of a very high quality, and the book is beautifully put together. For the mere day I've had it on the coffee table has been perused by the twice." -  Art Evolved

"You can be a lover of dinosaurs, great art, or history and you'll find something in this book for you." - Don't Forget Your Towel