The Art and Making of Hotel Transylvania (Hardcover)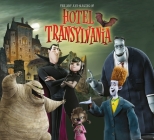 For price, please email Orders@booksandbooks.com
NOT IN STOCK - Original Retail Price Subject to Change
Description
---
The Art and Making of Hotel Transylvania brings to (undead) life a fresh new spin on the classic horror monsters like Dracula, Frankenstein, the Mummy, Werewolf, and the Invisible Man from Sony Pictures Animation and director Genndy Tartakovsky - creator of Samurai Jack and executive producer and director of Star Wars: Clone Wars animated series.

The story features Dracula, owner of a lavish five-stake resort hotel for monsters, away from the human world. On one special weekend, he invites some of the world's most famous monsters to celebrate his daughter's 118th birthday. For Drac, catering to all these monsters is no problem, but his world could come crashing down when one ordinary guy stumbles into the hotel and takes a shine to his daughter, Mavis.

Featuring over 400 pieces of concept art, character sketches, storyboards and digital art, along with interviews with key filmmakers and crew, this full-color book is truly a spooky but fun treat for the eyes!
About the Author
---
Tracey Miller-Zarneke has long been fascinated with the world of animation, way beyond her credited roles on the feature films Meet the Robinsons, Chicken Little and The Emperor's New Groove. She has written several books on the art of animation, including The Art and Making of Cloudy With a Chance of Meatballs, The Art of Kung Fu Panda 2 and The Art of How to Train Your Dragon.
Praise For…
---
"Attractively designed spreads, ready to inspire kids who love to draw. A good mix of eye candy and production info, this handsome volume will appeal to monster fans, artists, and up-and-coming filmmakers." – School Library Journal

"Titan's lavish new tome The Art and Making of Hotel Transylvania gives a gorgeous peek at how this whimsical monster mash came together."– Kirkus

"This lush new book is a must have for fans and for anyone looking to dig deep into character design progressions." "Is the be-all, tell-all book about Sony Pictures Animation's computer-graphics and 3-D Hotel Transylvania animated feature." "Stands out among all the other coffee-table animation-art books." – Animation World

"a gratifying treat for the eyes." – Critiques 4 Geeks

"it's downright scary how packed this book is with great imagery." – Beyond the Marquee

"The writing, by Tracey Miller-Zarneke, is clever and engaging and the aforementioned artwork, provided by more than a dozen animators, is amazing." – Into the Dark

"This book is sure to interest graphic design nerds and anyone else engaged by the film." – Somewhat Nerdy