Teen Titans: Raven and Beast Boy HC Box Set (Boxed Set)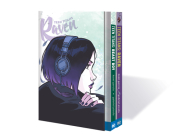 $39.99

Available to SHIP now; STORE PICKUP in 7-10 days
Description
---
Raven Roth and Garfield Logan are two regular teens...with some seriously unique lives! Author Kami Garcia and artist Gabriel Picolo's New York Times bestselling book Teen Titans: Raven is collected with its followup Teen Titans: Beast Boy in this incredible HARDCOVER box set!

Raven and Beast Boy are an incredible team together on the Teen Titans! But who were they before they joined...and before they even met? Follow Raven Roth and Garfield Logan on their journeys through high school...and self-discovery.

Available for the first time in hardcover format, Teen Titans: Raven and Teen Titans: Beast Boy is the box set you don't want to miss! Raven brings readers a tale of finding the strength to face who you are and learning to trust others--and yourself. Beast Boy explores self-discovery and acceptance, with a focus on the value of true friendship.
About the Author
---
Kami Garcia is the #1 New York Times, USA Today, and international bestselling co-author of the Beautiful Creatures and Dangerous Creatures novels. Beautiful Creatures has been published in 50 countries and translated into 39 languages. Kami's solo series, The Legion, includes Unbreakable, an instant New York Times bestseller, and its sequel, Unmarked, both of which were nominated for Bram Stoker Awards. Her other works include X-Files Origins: Agent of Chaos and the YA contemporary novels The Lovely Reckless and Broken Beautiful Hearts. Kami was a teacher for 17 years before co-authoring her first novel on a dare from seven of her students. She is a co-founder of YALLFest, the biggest teen book festival in the country.

Gabriel Picolo is a Brazilian comics artist and illustrator based in São Paulo. His work has become known for its strong storytelling and atmospheric colors. Picolo has developed projects for clients such as Blizzard, BOOM! Studios, HarperCollins, and DeviantArt. He is prolific on social media, reaching 2.5 million followers on Instagram.