Ryukyu - Okinawa Impressionism (Hardcover)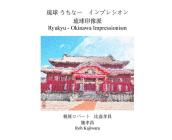 $44.99
NOT IN STOCK,,, but we can attempt to get it
Description
---
An independent nation until 1879, the Ryukyu Islands have their own unique culture, history, and languages. Ryukyu can be described as a Pacific Island culture mixed with Chinese, Southeast Asian, Japanese, and Korean influences that have carried over to Ryukyu over the course of hundreds, if not thousands, of years, having been adapted and modified by native Ryukyuans to meet their own unique needs. The result is a culture unlike that of anywhere else in the world. Now, due to over a century of foreign colonization, Ryukyuans face much discrimination and find their culture being threatened.
Ryukyu Impressionism seeks to help with the preservation and promotion of Ryukyu culture. This art style utilizes vibrant colors and focuses on scenes depicting life, and life in motion, in Ryukyu. In contrast to the stillness of photographs, Ryukyu Impressionism has an emphasis on short brush strokes, ripples, blurs, and other distortions that create a feeling of fluidity and movement within an image, allowing viewers to feel as if they might look to their left or right and watch the scene continue to unfold. The goal of this style is to capture moments that accurately depict life in Ryukyu, while leaving room for the mind of the viewer to wander, explore, and imagine what might happen next in any given painting.
This book is a selection of 27 original full-color images from Rob Kajiwara's collection on the Ryukyu Islands (Okinawa), done in 21st century Impressionist style. Painting names and notes are written in four languages: Okinawan, Japanese, Chinese, and English.
Kajiwara is a native Ryukyuan from Hawaii. He splits time between Hawaii and his native village of Nakagusuku, Okinawa, Ryukyu.