Rocking It Grand: 18 Ways to Be a Game-Changing Grandma (CD-Audio)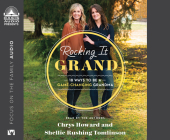 $19.99
Ask a Bookseller about this title
Description
---
Grandma―You Can Be a Game-Changer for Generations to Come.
Today's grandmas live in an ever-changing, fast-paced, highly-competitive, busier-than-ever world. We struggle with balance as we help our children manage theirs―grandbabies, work, exercise, staying healthy, and leading our growing families.

Chrys Howard and Shellie Tomlinson have more than 20 (as of now) grandchildren between the ages of newborn to 30 years old. Together they inspire grandmas with personal stories, learned insight, relevant Scripture, and a few laughs to encourage new and seasoned grandmas to press on.

Rocking It Grand includes four, easy-to-remember R's in each of the 18 devotions:
Remember it is a scripture passage to absorb;
Read about it is a personal message from Chrys or Shellie;
Reflect on it is a quote to highlight their message; and
Rock it provides an action step to reinforce the topic.
Become more confident and intentional with your grandchildren, your adult children, and their spouses; more grounded in your faith; and ready to rock your role as the best grandparent you can be.
About the Author
---
Shellie Rushing Tomlinson:  I'm a farmer's wife and totally besotted grandmother of half a dozen beautiful grandchildren I fondly call The Super Six. I fell in love with storytelling as a child when my paternal grandmother regaled us with stories of what it was like to come to Louisiana from the hills of Appalachia and set up house in a tent with a dirt floor. On the other side of the family tree, my maternal grandfather, a people loving preacher, was known for using humor to draw his listeners to Jesus. It's safe to say the two of them marked me. Whether in my books, speaking before audiences, or dropping a segment on my podcast, I love nothing more than helping hungry hearts feast on Jesus through humor and storytelling. Look for The Story Table podcast wherever you listen to your favorites and come visit me at ShellieT.com.

Chrys Howard likes to say she had a life before her daughter was the star of Duck Dynasty, but she has a hard time remembering what that was. Chrys' daughter is Korie Robertson, with whom she has written several books, but mostly she just loves to be with her playing tennis or skiing or chasing grandkids. She holds a degree in Elementary Education and taught school for a number of years before joining her family's publishing company, Howard Publishing. At the publishing company she served as an executive editor as well as the creative director in charge of cover designs. Chrys also hosted a radio show called It's a Mom Thing for ten years. She currently serves as a director at a summer camp, co-hosts a podcast and lifestyle site titled Rocking It Grand, and travels and speaks. She has three amazing children, fourteen adorable grandchildren and five fabulous great-grandchildren. She has been married to her husband, John, for fifty years. They live in West Monroe, LA.