Famous at Home: 7 Decisions to Put Your Family Center Stage in a World Competing for Your Time, Attention, and Identity (CD-Audio)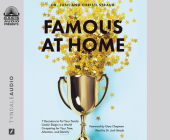 $19.99
Ask a Bookseller about this title
Description
---
No one wakes up and decides, "I'm planning to ruin my marriage, neglect my kids, and cause mistrust in my family." Yet our personal pursuits and busyness can lead us there. In this book, marriage and leadership coaches Dr. Josh and Christi Straub show how seven core decisions can help us put what's most important center stage in our lives.

Famous at Home is Josh and Christi's realistic, grace-filled look at the struggles families face in a culture that competes for their time, attention, and identity. Whether you've found yourself putting more effort into becoming famous on stages outside the home, or your stage is the home, Famous at Home offers guidance and inspiration to help you give your family the best version of you instead of your leftovers.

Famous at Home will help you and your spouse
Be on the same team―fighting for each other and not against each other
Stay emotionally connected even if work, distance, or busyness are in the way
Deeply invest in the emotional lives of your children
You really can be famous at home, showing up in intentional and meaningful ways for your biggest fans. All it takes is realizing that the greatest red carpet you'll ever walk is through your front door.
About the Author
---
Dr. Josh and Christi Straub are speakers, authors, and marriage and leadership coaches.  Together they lead Famous at Home, an organization devoted to equipping leaders, organizations, military families, and churches in emotional intelligence and family wellness.