You Can Be Polite: Be Rude or Use Tact? (Making Good Choices) (Paperback)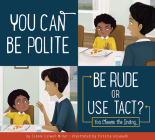 $9.99

Available to SHIP now; Store PICKUP in 7-10 days
Description
---
William hates pepperoni pizza. And that's what the neighbors are serving when William's family visits for dinner. What would you do if you didn't like the food?

In this illustrated choose-your-own-ending picture book, William is served food he doesn't like. Will he be polite and use tact or get upset and be rude? Readers make choices for William and read what happens next, with each story path leading to different consequences. Includes four different endings and discussion questions.

Expressive illustrations and the power to choose your story support social-emotional learning and decision-making for kids, making this an excellent book to spark discussion and encourage polite manners in social situations.