Revolutionary Prudence Wright: Leading the Minute Women in the Fight for Independence (Hardcover)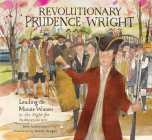 $18.99

Available to SHIP now; STORE PICKUP in 7-10 days
Description
---
Here is the first-ever picture book about female Revolutionary War activist Prudence Wright, who rallied the first and only group of "minute women" to fight the British, changing history in the process.

Prudence Wright had a spark of independence.

Annoyed when the British king held back freedoms in colonial Massachusetts, feisty and fearless Prudence had enough. She said no! to British goods, determined to rely on her resourcefulness and ingenuity to get by. And when British troops continued to threaten the lives of her family and community, she assembled and led the "minute women" of Pepperell to break free of tradition.

This untold story of a courageous and brave woman from the Revolutionary War continues to inspire today.
About the Author
---
Beth Anderson earned a BA in linguistics and an MEd in reading. She taught English as a second language for more than 20 years. In 2013, she began writing for children. Her narrative nonfiction and historical fiction picture books include: "SMELLY" KELLY AND HIS SUPER SENSES and LIZZIE DEMANDS A SEAT!.

Susan Reagan earned her degree from the Columbus College of Art and Design. With previous experience in greeting cards, surface designs, and picture books, Susan's titles include YOU AND ME and LIGHTS OUT!
Illustrator site: susanreaganart.com
Praise For…
---
Bank Street Best Book of the Year

★ "Reagan's accomplished illustrations, executed in watercolor with digital drawing, add historical veracity to Anderson's superbly documented, at times hair-raising narrative. The author explicitly situates Wright and her female comrades as pioneers who 'proved themselves as full citizens' in an era before female enfranchisement. Vivid, absorbing, and inspiring. " —Kirkus Reviews, starred review

★ "This story of the Minutewomen of Pepperell and their contribution to the Revolution, though not well-known, has been passed down through the generations of Prudence's family and is celebrated as part of local lore. It is an important glimpse into the roles that women played during the time period, showing that they often had to step into traditional male roles while still fulfilling their own. Readers will love that aspect of the story as much as they will admire Prudence's leadership and "spark of independence" and the way in which the women banded together. The watercolor and digital illustrations include many details that indicate the level of research done by the artist – the drab clothing colors, the household items and tools, and building styles are all perfectly represented." —Youth Service Book Review, starred review

"Combining digital drawings with traditional watercolor washes, the illustrations are nicely composed, well researched, and suitably dramatic...Presently a little-known story from the American Revolution, this attractive, informative picture book will be an asset to history units related to the period." —Booklist

"In compact and dramatic fashion, this book conveys the issues that provoked the Revolutionary War, the divisions it created within families, and the role-defying actions undertaken by women of the time. Fine-line and watercolor illustrations teem with energy and emotion, establishing a colonial feel to the pages and making excellent use of spots and varied perspectives." —School Library Connection

"An episode of the American Revolution not widely taught....Striking digital drawings and watercolors are filled with details in mostly subdued colors, such as gray, brown, tan, and burgundy....This piece of American history is presented in an attractive package that will be readily enjoyed by readers of all ages." —School Library Journal