Darlene's Double Dutch Dreams (Paperback)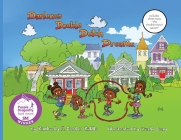 $19.99

WE CAN ORDER THIS FOR YOU (store pickup in 5-14 days)
(This book cannot be returned.)
Description
---
This book is Dyslexic inclusive; it is printed in a font that everyone can read, including people with dyslexia.
Darlene and her sisters always enter the local double Dutch contest. Darlene and Loretta always twirl and Venesha always jumps. Big sister, Trina, always cheers for them. Mom and Dad always watch. The routine is always the same and the chant is the same, too. However, this year everything is different.
Level Learner Books #4 - Engaging stories, longer sentences, and language play for developing readers who still need some help.
For more info go to www.Dyslexiefont.com
Go to www.mcp-store.com to find out more about the typeface and discounts.