Personal Reflections KJV Bible with Prompts (Paperback)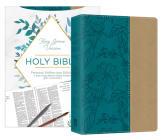 $39.99
WE CAN ORDER THIS FOR YOU (store pickup in 5-14 days)
Description
---
Create Your Own Visual Reflections and Expressions Alongside the Beloved KJV

Barbour's Personal Reflections KJV Bible is a refreshing way to interact and meditate on God's living and active Word. This oversized Bible printed on high-quality paper offers ample wide-margin white space on the outside of each page of scripture. And now this popular Bible comes with thought-provoking prompts on each page.

This lovely edition—a flexible leather-like binding—provides you with the blank canvas you need to create artwork, doodle, color, journal your thoughts, and write prayers or poetry reflecting on scripture passages. The creative sky is the limit!

The Personal Reflections KJV Bible with Prompts allows you to capture your exciting creative reactions to the powerful truths of scripture.
 
About the Author
---
Barbour Publishing is a leading Christian book publisher offering bestselling books featuring exceptional value, biblical encouragement, and the highest quality. Barbour is the home of New York Times Bestselling author Wanda E. Brunstetter along with well-known fiction authors Gilbert Morris, Olivia Newport, Michelle Griep and many others. If your interest is Christian Living or Bible Reference, you'll find excellent titles by bestselling authors Josh McDowell, Jonathan McKee, Debora Coty, and Stephen M. Miller's The Complete Guide to the Bible.   Barbour also publishes the top classic devotionals God Calling by A.J. Russell, and Come Away My Beloved by Frances J. Roberts. With inspirational Christian books available in all genres--fiction for adults and children, Bible Promise books, devotionals, Bibles, Bible reference, puzzle books, and gift books there's something for everyone to enjoy.