Untouchable: Unraveling the Myth that You're Too Faithful to Fall (CD-Audio)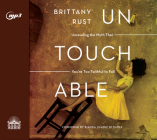 $12.99
Ask a Bookseller about this title
Description
---
Words of Caution for Those Who Think They're Beyond Temptation

Too many Christians, especially those in ministry, believe they are untouchable--that they're too faithful to fall or too spiritual to give in to temptation. They deny any sort of weakness, fail to draw proper boundaries, and end up doing the very things they swore they'd never do.

Pastor and author Brittany Rust was one such person--until she found herself in the middle of moral failure and a church-wide scandal. Bewildered, humiliated, and ashamed, she thought she was beyond redemption. But God's grace met her on the ground, and here she shares what she's learned through her painful journey. She unravels the myth of being untouchable, showing how we start to believe the lie, and how we can protect ourselves from temptation. Ultimately she shows that to truly flourish in life, you must be willing to admit weakness--and that no one is beyond God's redeeming love.
About the Author
---
Brittany Rust is a writer, speaker, and pastor at Red Rocks Church in Colorado. A regular contributor for Propel Women, Crosswalk, iBelieve, YouVersion, and Single Christianity magazine, she also hosts the Epic Fails podcast. Her passion is to give encouragement to the world-weary believer through her writing, speaking, and podcasting. She lives with her husband, Ryan, and their son in Castle Rock, Colorado. Learn more at www.brittanyrust.com.