To the Village Square: From Montague to Fukushima: 1975-2014 (Hardcover)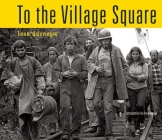 For price, please email Orders@booksandbooks.com
OUT OF PRINT; NOT IN STOCK - Original Retail Price Subject to Change
Description
---
This collection of vivid photographs tells the story of citizens who spoke up against the nuclear power industry, who refused to be nuclear neighbors, and who fought for years to stop construction or to close reactors in their backyards.
The photographs also introduce us to the victims of nuclear power, among them the children who developed cancer and other grave health problems, even generations after the 1986 explosion at Chernobyl. Through Lionel Delevingne's record, we can see for ourselves the tragedies of the worst accident sites: Three Mile Island in the United States, Chernobyl in Russia, and Fukushima in Japan.

We hope that this collection and history will help take the story of atomic energy to the village square, that it will generate discussion and a renewed sense of urgency, and remind a new generation of the battles that have been fought and are still to be fought to protect the beauty and health of our world.