Layer by Layer: Under the Sea (Hardcover)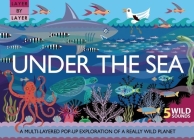 For price, please email Orders@booksandbooks.com
NOT IN STOCK - Original Retail Price Subject to Change
Description
---
Dive into the ocean to peel back the layers, hear the sounds, and encounter amazing sea creatures!

Layer by Layer: Under the Sea explores the natural treasures hidden beneath the waves: fierce sharks, colorful fish, scuttling crustaceans, and other creatures that call the ocean home. Six interactive layered scenes with atmospheric sounds show a variety of ocean animals, with multiple layers for readers to peel away. As each layer is revealed, kids can follow the movements of the animals through the transforming scenes. On the final layer, a surprise completes the scene. Young ocean explorers will be thrilled by the sense of adventure gained by viewing the scenes as they transform on the page.
About the Author
---
Anne Rooney is a full-time author living in Cambridge, England. Before becoming a writer, she studied and taught medieval English and French literature. She writes nonfiction books for both children and adults. She specializes in subjects such as science, history, current issues, ethics, technology, early-years fiction, popular science (adult), and writing/developing writing skills. She is currently a Royal Literary Fund Fellow at Cambridge University.

Suzanne Carpenter's work pays homage to folk art from across the world. She creates simple, punchy vector illustrations that have a huge appeal among young children.