Not A Monster (Hardcover)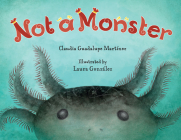 $17.99

Available to SHIP now; STORE PICKUP in 7-10 days
Description
---
With Spanish vocabulary and a clever color concept, this poetic picture book shares the life cycle of beloved amphibian—the axolotl—in its natural habitat.

An axolotl may look like one, but it is certainly Not a Monster. This curious creature, made popular by Minecraft, is actually a salamander that will never lose its gills or fins. Not a Monster explores the traits of the axolotl, the Aztec origin myth about the species, and the way pollution is affecting its natural habitat: the canals of Xochimilco in Mexico City.

Fun and engaging, this playful and informative read-aloud introduces curious readers on one cool character who is NOT a monster!
About the Author
---
Claudia Guadalupe Martínez learned that letters form words from reading subtitles of old westerns with her father. Her debut novel, The Smell of Old Lady Perfume, received the 2009 Paterson Prize for Books for Young People, the 2008 Texas Institute of Letters Best Young Adult Book Award, and a 2009 Americas Award Commendation. Pig Park won the 2015 Texas Institute of Letters Best Young Adult Book and the 2015 NACCS Tejas Foco Young Adult Fiction Award.

Laura González has a degree in graphic design from Universidad Autónoma de Nuevo León in Mexico, where she also studied illustration. She is a member of the Mexican Association of Illustrators (AMDI) and has illustrated several books for children. www.laugonzalez.com
Praise For…
---
Deep in a murky, azul-tinged body of water, the axolotl swims under the cover of the moon.

Along a canal near an unspecified city "that was once a great empire," an egg grows and transforms; the creature inside gains fins, gills, and a bit more before it hatches into a tadpole. Four long limbs soon sprout, and the creature's color deepens into an inky black. It scours for food beneath "los lirios rosados" (pink water lilies), resting under a floating garden. The creature is "Not a Monster"—it's an axolotl. Martínez devotes the first half of the book to chronicling the axolotl's life journey—from birth to mating—in eclectic, whimsical strokes, egged on by González's sublime, earthy artwork. It's a tenderhearted ode to the water-based salamander. From there, the axolotl's tale pivots to spotlight the creature's connection to Xolotl, the Aztec god of monstrous things, said to have leapt into a lake and turned into an axolotl. "Guided by the stories their abuelos have told them," two friends "row their chalupa morada" into the canals, spearheading cleanup efforts to remove plastic and bottles from the water. The author brilliantly positions the restoration of the endangered axolotl's natural habitats as a kind of modern rebirth infused with hope. Spanish words pop up throughout this sly call to action, and color words are bolded; definitions are provided in a glossary.

Rejoice and rally for the axolotl! (author's note) 

—Kirkus Reviews, starred review


Martínez introduces an amphibian exclusively found in Mexico in this inviting nonfiction picturebook, and readers get to watch it grow from a single cell to an axolotl. This unusual salamanderis not a monster, though it's described as an "Aztec god of monstrous things" that jumped in thewater in Aztec mythology. In her artwork, González honors that mythology with Aztec motifs andpictograms tucked into the illustrations, while comprehensively depicting the axolotl's growingphases. Once the axolotl is fully grown, the story introduces two children searching for themythological creature in the canals. Instead, they find pollution, which threatens the axolotl'shabitat, but they help clean the water, eventually revealing a collection of axolotls eggs beginningto hatch. Martínez sprinkles plenty of Spanish words throughout the story, which are defined in aglossary; color terms also appear in their matching hue. The term "monster" is used gently,without instilling fear. With beautiful watercolor illustrations, this story compellingly integrates folktales and biology, as well as important facts about environmental awareness.

—Booklist

In this picture book, Martínez seamlessly blends legend and science to expand readers' understanding of axolotls. She starts with the creature's life cycle, placing it in its natural habitat, and then recounts the myth of the creation of the axolotl—morphed from and named after "the Aztec god of monstrous things." The axolotl, Martínez asserts, is "Not a Monster" but rather an important part of a fragile ecosystem. Elders agree: "When…the creatures are gone, it will be the end of paradise." Subtle details in González's hazy mixed-media illustrations complement the blend of cultural and scientific information (e.g., Aztec-inspired patterns populate the water and plants when the legend is introduced and linger after). The text naturally weaves in Spanish words, and Spanish names for colors are printed in those colors, allowing readers to learn their meanings with help from the illustrations (all Spanish words used are eventually defined in a glossary). "A couple of amigos row their chalupa morada along the water" to search for the elusive Not a Monster. After the friends help to clear trash from the canal, they follow a trail of heart-shaped lily pads to a cluster of axolotl eggs. The young conservationists—and readers—are rewarded with a final illustration of the hatched axolotls, as well as photos of Martínez's pet axolotls in her author's note.

—The Horn Book