Sitting Together: A Family-Centered Curriculum on Mindfulness, Meditation & Buddhist Teachings (Paperback)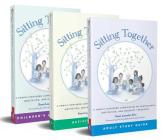 $69.95
WE CAN ORDER THIS FOR YOU (store pickup in 5-14 days)
Description
---
An all-in-one set to implement a family meditation course, regardless of your tradition or level of experience.

This three-volume set provides a complete curriculum for adults and children to learn about mindfulness, meditation, and Buddhist teachings together, either in the home, in partnership with other families, or with a local center.

The Adult Study Guide (280 pages) offers thirty-six lesson plans including meditation practices, homework, readings, and reflection questions for group study.

The Children's Lesson Plans (296 pages), used in conjunction with the Adult Study Guide, provides step-by-step instructions for teachers on meditation exercises, stories, crafts, songs, and games.

The Activity Book (136 pages) is a perfect companion to enhance the children's education with over 50 coloring pages, puzzles, and other fun activities.

This comprehensive curriculum for adults and children ages 3–12 has five units on meditation, kindness, ethics, character, and service. It is perfect for any family, Dharma center, yoga studio, or religious, educational, or community organization that wants to incorporate a mindfulness program for children and their families.

To fully implement the Children's Lesson Plans some additional materials will be needed, such as inexpensive arts and craft supplies, download of children's songs, and children's storybooks, often available in libraries.

Visit mindfulfamilies.net for more resources.
About the Author
---
Rev. Sumi Loundon Kim is the Buddhist chaplain at Yale University and founder of the Mindful Families of Durham. She has published two anthologies, Blue Jean Buddha: Voices of Young Buddhists and The Buddha's Apprentices: More Voices of Young Buddhists. Following a master's degree from the Harvard Divinity School, she served as the associate director at the Barre Center for Buddhist Studies and as the Buddhist chaplain at Duke University. She lives in southern Connecticut with her husband and two children.
Praise For…
---
"In Sitting Together, Sumi Loundon Kim has created a wonderfully rich mindfulness curriculum for families. She weaves together her great wisdom and compassion and a strong base of practical, real life experience. This book is a generous offering to parents, teachers, and children everywhere. Highly recommended."
— Joseph Goldstein, author of Mindfulness

"Sumi Kim's whole life has gone into the making of this wondrous curriculum. Realistic, sensitive, thorough, it gives you all you need to expand your parental heart, hone your parental skills, and share with your children the joys of simple spiritual practice. I believe passionately that children are our number one priority, our number one offering to the future. The need for kinder and better parenting has never been greater than it is now. Please, please, parents, make good use of Sumi's loving work."
— Norman Fischer, author of What Is Zen?

"What a wonderful, and deeply needed, contribution to contemporary life: a course on "spiritual fluency" for families and for teachers of young children. Sumi Loundon Kim knows her material from the inside out and conveys it in a caring, direct, fun-filled voice. I suspect this work will not only bring well-being to families and communities, it will bring great joy as well."
— Sharon Salzberg, author of Lovingkindness and Real Happiness

"Spirituality matters when it comes to raising resilient children and parents often ask me for a soup to nuts program that teaches spirituality to kids. Kudos to Sumi for delivering just that! Her years as a dharma practitioner, mom and teacher shine through this wonderful curriculum - one that is readable, comprehensive and interactive."
— Susan Kaiser-Greenland, author of The Mindful Child and co-founder of Inner Kids.

"This is a lovely book. More than that it is an important book. Any parent who wishes to raise children mindfully, heartfully, has been given a manual. Sumi Loundon provides a Buddhist roadmap through the thickets of childhood."
— James Ishmael Ford, author of If You're Lucky, Your Heart Will Break

"An inspiring and practical guide to sharing the values so many of us hold dear."
— Christopher Willard, PsyD, author of Growing Up Mindful, Harvard Medical School

"Sumi offers educators, parents and young people, a vast collection of practices, stories, and activities, to help us wake up to our bodies, hearts, and relationships. At a time when there are so many books and studies on mindfulness, it's refreshing to encounter literally hundreds of practical suggestions for how to bring meditative awareness into the hearts and minds of young people and families. Sumi has offered us a true gift."
— Michael Stone, author of Awake in The World

"Brilliant! This gentle curriculum distills the essence of Buddhist mind and heart training into 36 lessons. It is a delightful journey into mindfulness and compassion, offering essential tools for a generation of children entering our increasingly complex world. No child should leave home without them!"
— Christopher Germer, author of The Mindful Path to Self-Compassion

"Sumi Loundon Kim's Sitting Together provides a richly detailed, comprehensive, and above all wise and kind guide to nurturing our children's, and our own, innate capacity for curious exploration, mindfulness, and love."
— Wildmind Buddhist Meditation

"Sumi Loundon Kim has written a wonderful guide to fill a lacuna in lay Buddhist practice. Her three-volume book shows how to bring Buddhadharma to life in a family setting, for both parents and children. Her lesson plans are creative, straight-forward, and structured. This is the book for you if you like to grow and mature with your kids in love and wisdom."
— Jimmy Yu, Florida State University

"Sitting Together is an invaluable and delightful resource for teachers, sanghas, meditation groups and families. More than a curriculum, it is a much-needed gift. It is clear, practical, well designed and well researched. As one would expect in a book from Buddhist teacher Sumi Loundon Kim, warmth, wisdom, humor and insight shine from its pages. I am deeply grateful that Sitting Together has been given to our world."
— Ven. Phap Hai, senior monastic disciple of Venerable Thich Nhat Hanh and author of Nothing to