Through a Man's Eyes: Helping Women Understand the Visual Nature of Men (CD-Audio)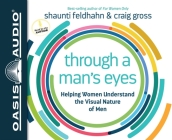 $19.99
Ask a Bookseller about this title
Description
---
What Happens When Women See What Men See?

You already know that your husband, boyfriend, or son is wired differently from you, but do you know what that really means? It means, among other things, that he's been given the gift of a unique visual wiring — and the challenges that come with it.

In Through a Man's Eyes, Shaunti Feldhahn and Craig Gross team up to help open our eyes to the God-given visual nature of men. They address questions like: • "Why are guys so visual — and what does that mean, anyway?"• "How do I help my son navigate this sex-crazed culture?"• "How dare someone tell a woman to watch what she wears! Isn't it a man's responsibility not to look?"• "If he's tempted by visual images, is there something wrong with him? With me?"• "My husband is an honorable guy, so why would he be tempted by porn?"• "How can I talk to my husband or son about this? What can I do to support him?"
 Through the compassion and candor in this audio book, you can learn what men have long wished the women in their lives knew, but didn't know how to explain — and see the difference this awareness makes.
About the Author
---
Shaunti Feldhahn is a social researcher, popular speaker, and the best-selling author of such books as For Women Only. With more than two million copies of her books sold in more than twenty languages, Shaunti speaks all over the world. Her relationship findings are regularly featured in media as diverse as The New York Times and The Today Show, Focus on the Family and Cosmo. She and her husband, Jeff, and their two kids live in Atlanta, Georgia.
 Craig Gross is a pastor and the founder of XXXchurch.com, which seeks to help those who are being assaulted by pornography. Craig is the author of numerous books and has been featured in GQ, Newsweek, Wired, The New York Times, and on Good Morning America,Nightline, CNN, Fox News, and The Daily Show with Jon Stewart. He lives in Pasadena, California, with his wife, Jeanette, and their two children.