Circles of Seven (Dragons in Our Midst #3) (CD-Audio)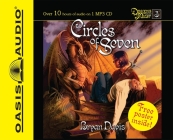 $14.99
Ask a Bookseller about this title
Other Books in Series
This is book number 3 in the Dragons in Our Midst series.
Description
---
Circles of Seven is a contemporary fantasy novel, the third in a series of books for pre-teens and young adults. This series inspires young people to pursue faith, courage, and love and to dig deep within to find their God-given strengths, no matter how difficult the circumstances. The first book, Raising Dragons, plunged two teenagers, Billy Bannister and Bonnie Silver, into mind-boggling mysteries, life or death pursuits, and deadly sword-to-sword battles. In the second book, The Candlestone, a mysterious diary leads Billy into mortal combat with a powerful dragon slayer. Separated from his friends and finding his dragon traits useless against this enemy, he has to rely on new weapons, a sword and shield he cannot even see. Now in Circles of Seven, using their dragon traits and the wisdom they gained through their earlier adventures, Billy and Bonnie explore a multi-dimensional domain of evil. In this realm, they navigate seven perilous worlds, each one manifested in a circular plane of existence that leads them deeper into the domain of a powerful enemy.
About the Author
---
Bryan Davis is the author of The Image of a Father (AMG) and Spit and Polish for Husbands (AMG), and four books in the Arch Books series: The Story of Jesus' Baptism and Temptation, The Day Jesus Died, The Story of the Empty Tomb (over 100,000 sold), and Jacob's Dream. Bryan lives in Middleton, Tennessee with his wife, Susie, and their children. He and Susie have homeschooled their four girls and three boys.