Dorothy Molter: The Root Beer Lady (Paperback)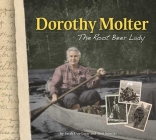 $18.95

Available to SHIP now; STORE PICKUP in 7-10 days
Description
---
Kindness, Strength and Perseverance
Her name is synonymous with the Boundary Waters and root beer. Her story is one of struggle and triumph. Dorothy Molter lived in the BWCA for over 50 years--15 miles and 5 portages from the nearest road. In 1952, a Saturday Evening Post article even declared her "The Loneliest Woman in America," though nothing could be further from the truth, as she received countless visitors over the years.
This is the biography of the Nightingale of the Wilderness, of a woman who fought the government for her land, of a woman whose life inspired a museum in her honor.
Book Features:
A fresh look at Dorothy's life from the people who operate her museum
New stories and long-forgotten photographs
Dorothy's famous Christmas letters
Dorothy's very own root beer recipe
Even those familiar with Dorothy's incredible life story have never experienced it like this.
About the Author
---
Sarah Guy-Levar has been the executive director of the Dorothy Molter Museum in Ely since 2007. When not hauling cases of Dorothy Molter's Isle of Pines Root Beer she enjoys reading, singing, community theater, scrapbooking, camping, dog sledding, entertaining, Tuesday morning breakfast club, and, much like Dorothy, coffee with friends. Sarah resides on Burntside Lake with her husband Andy, daughters Laura and Claire, fourteen sled dogs and one cat. Terri Schocke began her life in Indiana where she met her husband, Terry. They moved to the Pacific Northwest in 1978, before moving to Ely, MN, in 1997. While living in Ely, Terry has been involved with the Ely Winter Festival, the North American Bear Center and is currently employed at the Dorothy Molter Museum. In addition to photography, a hobby she shares with her husband, she enjoys canoeing the lakes of the BWCA.