Deadly Emotions (CD-Audio)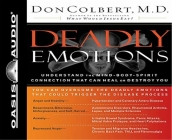 $22.99
Email or call for price.
Description
---
Did you know that negative emotions can adversely affect your health? Depression, anger, guilt, condemnation, low self-esteem - these are only a few of the lethal toxins that threaten body and spirit. Bestselling author Dr. Don Colbert explores the deadly effect of negative emotions on the body, mind and spirit, and offers techniques for releasing these toxic catalysts.
About the Author
---
Don Colbert, MD, is board-certified in family practice and practices anti-aging and integrative medicine. Dr. Colbert has helped millions of people to discover the joy of living in divine health. He is the author of numerous books, including the New York Times best-sellers Dr. Colbert
Praise For…
---
"It's refreshing when a physician provides research to back up claims in the sometimes ephemeral field of the mind-body connection. Dr. Colbert examines humans and the multitude of illnesses that stem from wrong thought and lifestyle with a near-religious fervor that doesn't detract from the value of this audiobook. The weaving of spiritual knowledge with scientific savvy make this especially palatable. Greg Wheatley is a straightforward narrator who doesn't stumble over medical terms or the author's occasional overzealousness. In general, DEADLY EMOTIONS is an eye-opening guide to our responsibility for many of the illnesses we experience and to the possibility of creating a healthier emotional state."
D.J.B.  © AudioFile Portland, Maine