Rap Tees: A Collection of Hip-Hop T-Shirts 1980-1999 (Hardcover)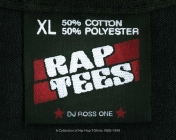 $39.95

Here in Miami, Just Like We Are
Description
---
One of the world's foremost collectors of all things hip-hop, DJ Ross One presents--for the first time ever--a much sought after collection of T-shirts in this lushly produced and detailed catalog showcasing over 500 of the genre's best. Rap Tees outshines all other rap tee collections and will be the definitive reference for generations to come. Providing not only a valuable reference and style guide to these ultra-rare shirts, Rap Tees is also a unique chronology of the history of hip-hop.

Beginning with the earliest rap concert shirts from the Sugar Hill Gang and New York Fresh Fest, circa 1980-84, and spanning the next two decades, Rap Tees includes rare shirts from a wide selection of the who's-who of the business including: Public Enemy, Boogie Down Productions, Beastie Boys, Eric B and Rakim, Wu Tang Clan, Jay Z, Nas, EMPD, and many, many more. Rap Tees bookends the golden age of rap with unique street-corner memorial shirts commemorating the deaths of The Notorious B.I.G. and Tupac Shakur.

Unlike typical rock n' roll shirts, hip-hop tees were often made in extremely limited quantities. The elusive concert, promotional, and bootleg tees included in this book are nearly impossible to find on the open market. Only DJ Ross One could track down these gems for you in this one-of-a-kind book, making Rap Tees the consummate guide for these unique pieces of music history.
About the Author
---
Ross Schwartzman aka DJ Ross One is a world-renowned DJ and collector of all things hip-hop. As a DJ, he lives between New York City and Miami, and travels constantly to play the leading nightclubs in the United States and abroad. He was recently signed to Jay-Z's Roc Nation Management. A self-proclaimed "rap nerd," Ross has been collecting hip-hop ephemera and memorabilia since he was 15, whether it's classic boomboxes, rare records, zines, early hip-hop flyers, or t-shirts. His passion for collecting has led him to accumulate some of the coolest rap-related items in the world (in his humble opinion).
Praise For…
---
A tenacious and sharp-eyed collector.
—The New York Times

If you fall within that rather large Venn diagram of dudes who love rap and wear T-shirts, Rap Tees is a must-cop.
—GQ

You know how when you talk to someone who is so into a particular subject that you can't help but get caught up in his or her excitement? That's what it's like talking to DJ Ross One about hip-hop T-shirts. His enthusiasm about the topic is infectious.
—Playboy

From one of the world's foremost collectors of all things hip-hop, a consummate guide showcasing over 500 of the genre's most sought after T-shirts. Providing not only a valuable reference and style guide to these ultra-rare shirts, Rap Tees is also a unique chronology of the history of hip-hop. 
—Highsnobiety

'This DJ's 'Rap Tees' Collection Will Make Any Hip-Hop Geek Envious.' Rap nerds, you're in the right place.
—MTV

Destined to become the definitive study on the subject, showcasing over 500 of the trillest designs you wish you could rock.
—Mass Appeal

There's always echelons of fandom: standards that separate the casual appreciator from the true connoisseur. When it comes to the obsessive world of vintage rap tees, DJ Ross One is king. 
—The Fader

They are chronicled cleanly and beautifully, as if they were in the catalog of a museum exhibition.
—The Guardian

This episode is for the real ones. DJ Ross One shares the story behind his dope book Rap Tees. This is rap nerd heaven. 
—Juan Epstein podcast

Included in the 10 GIFTS THAT WON'T FREAK OUT THE GUY YOU JUST STARTED DATING.
—Elle

As seen on:

Forbes.com
XXL.com
NYMag.com
Complex