Dozens of Dachshunds: A Counting, Woofing, Wagging Book (Hardcover)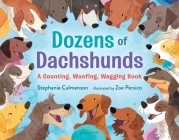 Description
---
An exuberant counting story featuring delightful dachshunds in creative costumes, inspired by the real, and hilarious, dachshund parades, for fans of Can I Be Your Dog?.

Dozens of dachshunds in clever costumes are the stars of a woofing, wagging costume parade! How many
dogs can you count? Dressed up as birds, bees, books, dinosaurs, and other delightful surprises, each new pair,
trio, and group adds to the excitement. When the parade is through, there's a joyous jamboree, complete with a
sing-along, bark-along dachshund song.

Additional back matter highlights all the different sizes, coats, colors, and patterns of this beloved breed.
About the Author
---
Stephanie Calmenson's books have been called "marvelous" (Publishers Weekly), "lyrical", "hilarious" (School Library Journal), and "sweet, funny, and right on the mark" (Booklist). A former teacher, children's book editor, and Editorial Director of the Parents Magazine Press Read-Aloud Book Club, she has written such favorites as Dinner at the Panda Palace; Late for School; Rosie, a Visiting Dog's Story; and May I Pet Your Dog.
Praise For…
---
"Singsong, rhyming couplets are found on nearly every page and are ideally suited to a preschool audience . . . . Those who love dachshunds will enjoy sharing this delightful story with the young children in their lives." - School Library Journal

"The rhythm of the story's rhyming couplets adds to the upbeat nature of this work, and the descriptive language offers youngsters opportunities to make meaningful connections between the text and illustrations. By the time kids reach the story's end, they'll want to sing along with the closing song: "We love dachshunds, short and long. / They are bold, and they are strong. / They are loyal. They are proud. / They may be small, but their barks are LOUD!" Delightful dachshund facts round things off in the back matter." - Booklist

"A parade of charm." - Kirkus Reviews