They Were the Shoes of ALL Shoes (Hardcover)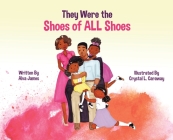 $29.99
Email or call for price.
Description
---
Elaine wants to be like all of the other girls in her school, but a long-desired trip to the popular girls' shoe store embarks her on a journey to discover her individuality. Through a life lesson learned in the most unsuspecting way, Elaine comes to understand she is not odd, just unique -- and she doesn't ever need to accept the pressure to wear anything that doesn't fit In a story that reflects the patience, wisdom and quiet humor of a traditional southern family, readers of every generation are sure to relate to Elaine's predicament and chuckle at her aha moment.

A native Floridian and a girl raised in the South, Alva James speaks and writes from a truly down-home place that reaches the heart. For more than 20 years she was involved In elementary and early childhood education, as well as youth and children's Christian ministry. She later spent two decades traveling throughout North America and abroad as a vocalist with an international ministry. She founded Relay Media Group in 2011 to pass real-life stories and wisdom on to the next generation. Alva lives in Florida with her husband of 48 years. They have 4 adult children and three grandchildren.