20 Questions 2022 Day-to-Day Calendar: The People, Places, Things, and Years Quiz Calendar (Calendar)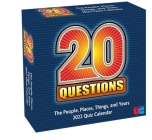 For price, please email Orders@booksandbooks.com
OUT OF PRINT; NOT IN STOCK - Original Retail Price Subject to Change
This book cannot be returned. PRINT-ON-DEMAND; printing may add 2-4 business days.
Description
---
Bring fun and entertainment into your home or office and be the first to correctly identify the person, place, or thing with the fewest hints.
Based on the super-popular game, each page of the
20 Questions Calendar 
features a series of clues to help you identify well-known people (living or dead, male or female, real or fictional), places (geographic locations such as seas, countries, rivers, and cities, man-made and natural places), or things (objects that are not alive). From Brad Pitt to Greece, from a crab cake to Tennessee, this clever calendar is packed with fresh facts. The answer is printed on the back of the page, so try not to cheat!
Includes:
Tear-off pages
A new question on each page
Includes official major holidays
Combined weekend pages
Answers are printed on backside of pages
Easel backer for desk or tabletop display
Printed on FSC-certified paper with soy-based ink
About the Author
---
The division that started it all, University Games features exciting, original games for kids and grown-ups. 

Bob Moog and Cris Lehman founded University Games in 1985. The company has added many divisions and broadened our scope a lot since then, but the University Games' products remain true to the standards set more than 30 years ago.​

Creative gameplay and quality components are our standard, but that's not all we offer. From bestsellers like Smart Ass (2.5 million copies sold) to licensed games like Rubik's Race, and with games for any age or setting, we've got many different ways to have fun. We offer party games that are perfect to play with the whole family, as well as several titles that are ideal for a rowdy evening with your adult friends! So spend time with us and you can have a great time with the family, get to know the neighbors or even learn how to read!