Tiny Buddha 2022 Day-to-Day Calendar: Simple Wisdom for Complex Lives (Calendar)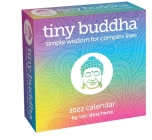 $15.99

WE CAN ORDER THIS FOR YOU (store pickup in 5-14 days)
(This book cannot be returned.)
Description
---
From TinyBuddha.com, the popular online community, comes this inspirational calendar with simple, daily wisdom for navigating life's biggest questions and challenges.
The Tiny Buddha 2022 Calendar
offers straightforward reflections to apply to our complex lives. Each daily page features quotations and insights on happiness, love, relationships, change, meaning, mindfulness, simplicity, self-care, letting go, and more. Created by Tiny Buddha founder Lori Deschene, this all-new calendar will bring you inspiration for every day of the year.
Also includes:
Tear-off pages
Day/date reference on each page
Includes official major holidays
Combined weekend pages
Back of pages are blank—perfect for notes, lists, or to-dos
Easel backer for desk or tabletop display
Printed on FSC-certified paper with soy-based ink
About the Author
---
Lori Deschene grew up in Massachusetts, where she developed into a Type-A overachiever with a strong drive to do more and be more--largely because she believed this would prove she was valuable and lovable. She began working two jobs at twelve years old, while maintaining her status as an honor roll student and spending nights rehearsing for community theater performances. So packed was her schedule that a friend predicted, in her high school year book class prophecy, that she'd eventually write and star in a one-woman show about her life called "Stress."

Though she's yet to pen that script, she's learned a lot about managing stress since she left her hometown in the 2002. Since then, she's traveled all over the US for work, lived in multiple states, recovered from a decade-plus battle with bulimia, healed from major depression, learned to embrace her emotional sensitivity, and built a career that suits her introverted nature and allows her to leverage her painful past for good.

Lori is the author of Tiny Buddha: Simple Wisdom for Life's Hard Questions, Tiny Buddha's Guide to Loving Yourself, Tiny Buddha's 365 Tiny Love Challenges, Tiny Buddha's Gratitude Journal, and Tiny Buddha's Worry Journal. Though she loves helping people through her writing, she secretly dreams of being on stage again, pouring her heart into a complicated character and bonding with a cast of misfits just like her. Her son and her work keeps her pretty busy at the moment, but who knows--that one-woman show may eventually see the light of day.