This Is Awkward: How Life's Uncomfortable Moments Open the Door to Intimacy and Connection (Compact Disc)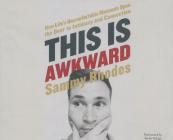 For price, please email Orders@booksandbooks.com
OUT OF PRINT; NOT IN STOCK - Original Retail Price Subject to Change
Description
---
A supremely funny pastor to Millennials, with a massive social media following, tackles the thorniest of subjects--depression, sexuality, divorce, life online, and more--with a rare combination of uproarious, self-deprecating humor and profound, biblical truth.
We are drawn to awkwardness like Taylor Swift to a breakup. As shows like The Office and Parks & Recreation and the movies of Judd Apatow reveal, we love awkwardness--in other people. But we are terrified of it in ourselves. Why? Because underneath awkward moments lies shame at the gap between what we are and what we should be. But as pastor and popular social media presence Sammy Rhodes reveals, God loves those awkward moments because that's where we were learn to find connection with him and with one another.
Approaching difficult subjects like depression, sexuality, body image, and divorce with truth, grace, and humor, This Is Awkward is an invitation to begin talking about those very things that make us feel most uncomfortable, and in doing so to realize that what enables us to become what we are meant to be isn't our strengths; it's our weaknesses.