P&O Cruises: Celebrating 175 Years of Heritage (Paperback)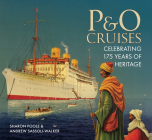 $39.95
Email or call for price.
Description
---
In 1837, P&O, or the Peninsular & Oriental Steam Navigation Company, won a lucrative mail contract to the Iberian peninsula. In 1840, they added Egypt and the Mediterranean to their routes. In 1843, P&O placed the first cruise advert in The Times, and in 1844 were selling passages to Gibraltar, Malta, Athens, Constantinople and Egypt to tourists, clearly becoming the world's oldest cruise company. In that year, the author William Thackeray was offered a voyage if he would write about it for the company, helping promote their services. By 1870, the Suez Canal had opened, reducing the time to travel to India, China and Australia and, in 1904, P&O introduced the Vectis as a cruising yacht. By the 1920s, cruising had become a huge part of the company's business and, post-war, the company grew this business on the back of its lucrative 'Ten-Pound Pom' contracts with the Australian government. By 1981, Canberra was carrying almost half of all cruise passengers from the UK, and in 1982, she sailed to war, with Royal Marines and the Parachute Regiment. Post-Falklands, P&O began to expand, with new vessels. Today, the company has seven cruise ships (Adonia, Arcadia, Aurora, Azura, Oceana, Oriana and Ventura), all of which will be in Southampton on 3 July 2012, when 30,000 passengers will embark and disembark, a record for the port. Celebrating 175 years in style, this is the official history of P&O Cruises.
About the Author
---
Sharon has been writing/compiling local history and maritime history books since 1987. In her spare time she is a keen photographer and a contributor to photo libraries. She is also a keen traveller on cruise ships and has been a collector of merchant maritime memorabilia for over forty years.Andrew works in the shipping industry, and has done for the last twenty-three years. He is a keen photographer, which has resulted in becoming a freelance professional in addition to his shipping career. He has had numerous commissions from the shipping industry and has won a few competitions including one held by P&O Cruises. Has had photos published in maritime books. He is a keen traveller especially on cruise ships, and has been interested in them since childhood.