Amity and Prosperity: One Family and the Fracturing of America (CD-Audio)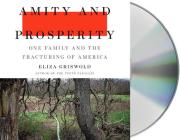 $45.99
Ask a Bookseller about this title
Description
---
*Winner of the 2019 Pulitzer Prize for General Nonfiction*

Prize-winning poet and journalist Eliza Griswold's Amity and Prosperity is an expose on how fracking shattered a rural Pennsylvania town, and how one lifelong resident brought the story into the national spotlight. This is an incredible true account of investigative journalism and a devastating indictment of energy politics in America.

Stacey Haney, a lifelong resident of Amity, Pennsylvania, is struggling to support her children when the fracking boom comes to town. Like most of her neighbors, she sees the energy companies' payments as a windfall. Soon trucks are rumbling down her unpaved road and a fenced-off fracking site rises on adjacent land. But her annoyance gives way to concern and then to fear as domestic animals and pets begin dying and mysterious illnesses strike her family—despite the companies' insistence that nothing is wrong.

Griswold masterfully chronicles Haney's transformation into an unlikely whistle-blower as she launches her own investigation into corporate wrongdoing. As she takes her case to court, Haney inadvertently reveals the complex rifts in her community and begins to reshape its attitudes toward outsiders, corporations, and the federal government. Amity and Prosperity uses her gripping and moving tale to show the true costs of our energy infrastructure and to illuminate the predicament of rural America in the twenty-first century.
About the Author
---
Eliza Griswold, a Guggenheim fellow, is the author of a collection of poems, Wideawake Field (FSG, 2007) and a nonfiction book, The Tenth Parallel: Dispatches from the Fault Line Between Christianity and Islam (FSG, 2010), a New York Times bestseller that was awarded the J. Anthony Lukas Prize. She has worked with Seamus Murphy in Africa and Asia for more than a decade. She lives in New York City.

Tavia Gilbert has recorded hundreds of titles across a wide span of genres, including Erica Spindler romantic thrillers, John Scalzi science fiction, Jeaniene Frost fantasy.  She received four Audies nominations and won three Audiofile Earphones Awards for titles The Obituary Writer, Sing Them Home and The Day of the Pelican.  In addition to voice acting, Gilbert is an accomplished producer, singer and theater actor.