Don't Go to Jail!: Saul Goodman's Guide to Keeping the Cuffs Off (CD-Audio)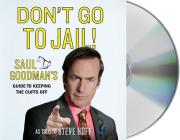 $28.99
Ask a Bookseller about this title
Description
---
Got the long arm of the law around your neck?
Does Lady Justice have her eye on you?
Were you set up at a lineup?
Saul Goodman can help!

There are some crazy laws out there. Did you know that in New Mexico there's a law that says "idiots" can't vote? Or that Massachusetts still has a ban on Quakers and witches? Or that in Georgia it's illegal to put a donkey in a bathtub?

Even if you're not bathing a donkey (and hey, if you are, no judgment from me!), you could be breaking the law right now and not even know it. That's why you need Don't Go to Jail! You can carry the advice of a seasoned legal practitioner with you anywhere you go, helping you to stay out of the courts and in the good graces of the criminal justice system.

Want to be your own attorney? Want to avoid getting hauled in on a warrant? Want to keep the cops from discovering the baggie of "your friend's" marijuana stashed under the passenger seat of your car? This is your chance to get those tips and many more savory bits of indispensable legal advice--all for much less than my usual hourly fee.
About the Author
---
SAUL GOODMAN, Esq., is Albuquerque's most savvy criminal lawyer. A sharp-witted graduate of the University of American Samoa Law School, he prides himself on defending the rights of the little guy and helping his clients realize their full potential.
Fred Berman is a five-time winner of the AudioFile Earphone Award for Audiobook Narration and the recipient of the 2013 Audie Award for narration in Spy the Lie. He has read a number of audiobooks for young listeners, including Judy Blume's Soupy Saturdays with The Pain & The Great One and Andrew Clements's The Last Holiday Concert. He has also narrated the audiobooks for Robert Kirkman's popular series, The Walking Dead.

Berman is an accomplished actor of both the stage and screen as well, performing on Broadway as Timon in The Lion King and off-Broadway in Hamlet, Twelfth Night, and King Lear. On television, Berman has had roles on NBC's hit series Smash as well as All My Children and Law and Order. He lives in New York City.
STEVE HUFF is a writer for and contributing editor to
Maxim Magazine
. He's written for the
New York Observer, CBS News,
the
Daily Beast, Esquire.com
and
Complex Magazine
, to name a few. One of the original true crime bloggers, Steve launched Village Voice Media's True Crime Report in 2006. He's appeared on NBC's Dateline and CBS's 48 Hours Mystery. Steve lives in New England with his wife, kids, and cat.