Hitler's Last Days: The Death of the Nazi Regime and the World's Most Notorious Dictator (CD-Audio)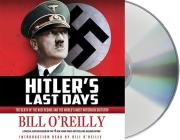 Description
---
By early 1945, the destruction of the German Nazi State seems certain. The Allied forces, led by American generals George S. Patton and Dwight D. Eisenhower, are gaining control of Europe, leaving German leaders scrambling. Facing defeat, Adolf Hitler flees to a secret bunker with his new wife, Eva Braun, and his beloved dog, Blondi. It is there that all three would meet their end, thus ending the Third Reich and one of the darkest chapters of history.
Hitler's Last Days is a gripping account of the death of one of the most reviled villains of the 20th century-a man whose regime of murder and terror haunts the world even today. Adapted from Bill O'Reilly's historical thrillerKilling Patton, this book will have young readers-and grown-ups too-hooked.
This thoroughly-researched and documented book can be worked into multiple aspects of the common core curriculum.
About the Author
---
Bill O'Reilly is a trailblazing TV journalist who has experienced unprecedented success on cable news and in writing fifteen national number-one bestselling nonfiction books. There are currently more than 17 million books in the Killing series in print. He lives on Long Island.

Edward Herrmann's many television credits include his Emmy-nominated portrayals of Franklin D. Roosevelt and his guest role in The Practice, for which he won an Emmy.  He has also played the part of Richard Gilmore on the popular television series Gilmore Girls and appeared in Grey's Anatomy, 30 Rock, and Law & Order.  On stage, Edward has appeared on Broadway, most notably as Frank Gardner in Mrs. Warren's Profession, for which he won a Tony Award.  His film work includes roles in The Great Waldo Pepper, The Paper Chase, Overboard,The North Avenue Irregulars, and Woody Allen's The Purple Rose of Cairo. Edward has narrated over 300 titles, including Thurston Clarke's Ask Not, published by Macmillan Audio.  AudioFile magazine has deemed Edward a "Golden Voice," and he has received multiple awards and nominations for AudioFile's Earphones Awards and Audie Awards.

Robert Petkoff has won multiple AudioFile Earphones awards for his acclaimed narrations. He was named Best Voice of Fiction & Classics for his reading of The Evolution of Bruno Littlemore by Benjamin Hale. His other narration credits include Oath of Office by Michael Palmer, Gangster Squad by Paul Lieberman, and books by David Foster Wallace.Petkoff has appeared on Broadway, Off-Broadway, and in theaters across America and Europe.  He has worked in television and film. His theater credits include Lord Evelyn Oakleigh in the Broadway production of Anything Goes, Perchik as part of the Tony-nomianted cast of Fiddler on the Roof, and Hubert Humphrey in the Tony award-winning play All the Way. He has also had numerous roles in television on shows such as Law and Order and Married with Children.