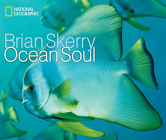 $50.00
Ask a Bookseller about this title
Description
---

Ocean Soul is a love story. It is a story of discovery. It is a story of hope.

The story begins when a boy who loves the sea attends an event with underwater photographers and has an epiphany: "I had always wanted to explore the oceans, but I now understood how I would do this. I would do it with a camera." With sheer deter­mination, hard work, and a little bit of luck the boy, named Brian Skerry, realized his dream with more than 20 awe-inspiring articles for National Geographic magazine. Now, with Ocean Soul, he showcases his stunning photography and describes his adventurous life in a gripping portrait of the ocean as a place of beauty and mystery, a place in trouble, and ultimately, a place of hope that will rebound with the proper attention and care.


About the Author
---
Brian Skerry is a photojournalist for National Geographic covering marine wildlife and underwater environments, whose award-winning images have also been featured in countless publications worldwide including People, Sports Illustrated, and Men's Journal. Skerry has lectured on photography and marine conservation at Harvard University, The National Press Club in Washington, DC and the Royal Geographical Society in London, among other venues. He is a regular guest on ABC's 20/20, TODAY, CBS Sunday Morning and Good Morning America.
 
Dr. Gregory Stone is Senior Vice President and Chief Scientist for Oceans with Conservation International. Since 2000, Dr. Stone has led the effort to create the world's largest marine protected area around the Phoenix Islands in the country of Kiribati and was named one of the National Geographic Society's Heroes of 2007 for this accomplishment.

Praise For…
---
"The renowned marine-life photojournalist shares behind-the-scenes stories of documenting elusive, bizarre, and increasingly endangered sea creatures, from the alienlike firely squid to teh mammoth right whale."
--Entertainment Weekly

"Stunning whale and seal portraits and kaleidoscopic photos of tropical fish and coral..." 
--Boston Magazine

"It's a stunning showcase of underwater images."
--The Huffington Post

"Skerry is one of those proverbial cases of a Jacques Cousteau-watching, National Geographic-reading child who dreams big and goes after it. He started shooting when photos came in little canisters of 36 frames and has been at it since." –NPR The Picture Show
 
"Photojournalist Skerry presents some 150 images of marine animals and ecosystems along with stories of his encounters with them. He hopes his work will increase awareness of the threats facing the oceans and inspire actions to counter these." –Science Magazine
 
"A gold mine for more casual ocean enthusiasts or budding marine explorers, as Skerry's photographs and accompanying text are at once fascinating, moving, and inspirational." –Library Journal
 
"This is a big book featuring extraordinarily fine photos made in highly challenging conditions…This lavish presentation brings to readers a selection of stunning images made over the course of three decades, accompanied by Skerry's charming personal narrative of his engagement with his subjects and his profession."  –Book News


"Few photographers can do what Brian Skerry has mastered throughout his career: capturing the ocean's beauty and vulnerability, whether it's in remote places or in plain sight. Ocean Soul allows readers to see a spectacular universe, populated by beguiling turtles, fierce sharks and bizarre fish. You can't get any closer without a scuba tank."
--Juliet Eilperin; national environmental reporter and author of Demon Fish: Travels Through the Hidden World of Sharks
 
"Ocean Soul reveals an important and unreachable realm few ever are able to see. I have spent my adult life behind a camera attempting to share nature's miracle in photographs. Brian Skerry has sought and captured imagery that I have not or ever will see. I am transfixed and at the same time humbled by the extraordinary moments he has given us in this new book." 
--Jim Brandenburg; photographer, author & filmmaker
 
"Brian Skerry's Ocean Soul is not just the title of his book; it's the best way to describe his being. He is an ocean soul, and this book's wide-ranging, astonishingly captured photographic sweep says it all."
--Carl Safina; author of Song For The Blue Ocean and The View from Lazy Point: A Natural Year in an Unnatural World
 
"Brian Skerry is living his dream within the pages of his newest book Ocean Soul. His images are simply magical. His attention to detail is remarkable and his choice of subjects, exposed to his journalistic style and photo-portrayal approach, is the reward the viewer will remember forever. Rare moments with a master photographer!!"


--Ernie Brooks; underwater photographer and author