Edward Weston American Landscapes 2020 Wall Calendar (Calendar)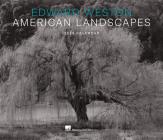 Description
---
From New Mexico and Arizona to Big Sur and Yosemite, this 2020 calendar, printed as duotones for the best reproduction quality possible, features 13 spectacular photographs of the American West by Edward Weston. Renowned for his photography, Weston was a pioneer of American modernism in the early 20th century. All the images are from MFA Boston's Lane Collection, one of the fi nest private collections of 20th-century American art, including more than 2,000 photographs by Weston, many never before seen.
About the Author
---
Edward Weston (1886–1958) was an influential American photographer, who along with his preeminent contemporaries, including Ansel Adams, Dorothea Lange, and Imogen Cunningham, established a unique photographic style that emphasized precise detail and distinct tonal variations in their printed works. Weston famously applied this style to his landscape and still-life photographs, which are among his most celebrated works.

One of the most comprehensive art museums in the world, MFA Boston encompasses nearly 500,000 works of art from ancient Egypt to the modern day. Over 1 million people visit MFA Boston each year to see its renowned collection and special exhibitions and to participate in its innovative educational programs.