A Dupatta Is . . . (Hardcover)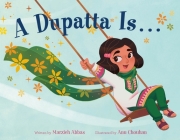 $18.99

Available to SHIP now; STORE PICKUP in 7-10 days
Description
---
A Dupatta Is..., written by Marzieh Abbas and vividly brought to life by the artwork of Anu Chouhan, is a loving and lyrical ode to the dupatta.

A dupatta is so much more than a beautiful piece of fabric.

A dupatta is sound—swooshing and swashing like a superhero cape.

A dupatta is scent—cinnamon and cardamom, crushed coriander and peppermint oil.

A dupatta is fun—playing peekaboo and building cushion forts with dupatta canopies.

Dupattas—shawls traditionally worn by women in various cultures of South Asia—are beautiful and colorful of course, but they're also fun, functional, and carry the sounds and smells of family and identity.
About the Author
---
Raised between the bustling cities of Dubai, UAE and Karachi, Pakistan, Marzieh Abbas loves traveling, baking, reading and samosas. She is the author of A Dupatta Is..., a member of SCBWI, 12x12PB, and a life-long learner. She runs a kidlit review group on Facebook and blogs about her author journey and life in Pakistan.

Anu Chouhan is a Canadian illustrator and video game artist. A trained animator with a background in mobile game development, Anu often combines her love of her Punjabi cultural heritage into her art, as well as drawing inspiration from anime, nature, and global fashion. Her unique, edgy, and energetic art has garnered attention from major publications, celebrities, and influencers online. She is the illustrator of A Dupatta Is... and Henna Is...
Praise For…
---
Praise for A Dupatta Is...:

"Abbas offers not just a story, but a poetic explanation of a traditional scarf worn by the people of Pakistan, India, Sri Lanka, and Bangladesh. ... From color to function, beauty to identity, the dupatta's significance is shown through vivid illustrations from ­Chouhan. ... This book exquisitely represents the legacy that is the dupatta through imagery and descriptive text for a beautiful lesson in culture." —School Library Journal

"Similar in form to Kevin Noble Maillard's Fry Bread (2019), illustrated by Juana Martinez-Neal, this rhythmic description of a dupatta's importance in a South Asian Muslim family is an affectionate homage. ... The book's warm, well-chosen language depicts a joyful, accurate representation of a dupatta's multigenerational importance in family life. ... A lyrical, multisensory celebration of a South Asian garment." —Kirkus Reviews

"Noting in evocative, expansive terms what 'a dupatta is,' Abbas's free-verse quatrains and Chouhan's jewel-toned digital images describe the traditional South Asian scarf. ... Vibrant patterned illustrations show individuals with a variety of skin tones in assorted scenarios. Additional information and a glossary conclude this look at a garment that is 'so much more' than mere apparel." —Publishers Weekly