Let's Run-Allons Courir: Moving is part of our DNA / Nous sommes fait pour bouger (Paperback)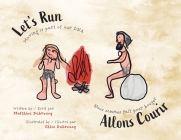 $18.99

Available to SHIP now; STORE PICKUP in 7-10 days
This book cannot be returned. PRINT-ON-DEMAND; printing may add 2-4 business days.
Description
---
Ready, set . . . Go It's time to learn about the benefits of a life on the move

Humans are uniquely suited to running long distances. Running helped the first humans hunt, and it helps present-day humans stay healthy and have fun In Let's Run, follow a tribe of hunters as they run to survive and take care of their families. While you're at it, learn about how you can race toward your own goals

Let's Run is about fitness and health for the whole family. Join the fun: get out and run

Trois, deux, un . . . C'est parti C'est le temps d'apprendre au sujet des plaisirs d'une vie active

Les humains ont l'unique habilet de parcourir de longues distances la course. Cette habilet a permis aux premiers humains de chasser et elle aide les humains d'aujourd'hui rester en forme, tout en prouvant du plaisir Dans ces pages, suivez une tribu de chasseurs pour qui la course permet la survie et le bien- tre de leurs familles. En m me temps, vous apprendrez comment vous lancer vers vos propres objectifs

Allons courir est au sujet de la sant physique pour toute la famille. Sortez courir: il y a tout un monde d couvrir.