Ben & Jerry's Homemade Ice Cream & Dessert Book (Paperback)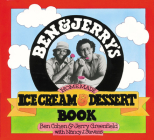 $12.95

Available to SHIP now; STORE PICKUP in 7-10 days
Description
---
Chunky Monkey, New York Super Fudge Chunk, Cherry Garcia, and more. . . Yes, you can make Ben & Jerry's ice cream at home!
In this classic ice cream cookbook, Ben and Jerry share all the recipes and techniques that have made them nationwide heroes. Specially adapted to make at home with any ice cream maker, here are 90 recipes, including sorbets, summer slushes, giant sundaes and other ice-cream concoctions.All you have to do is remember Ben & Jerry's two rules of ice-cream making:
RULE #1: You don't have to be a pro to make incredibly delicious ice cream.
RULE #2: There's no such thing as an unredeemingly bad batch of homemade ice cream.
In addition to Ben & Jerry's 11 greatest hits, here are recipes for ice creams made with fresh fruit, with chocolate, with candies and cookies, and recipes for sorbets, sundaes, and baked goods. Dig in!
About the Author
---
Jerry Greenfield has worked as a lab technician. He is glad he was not admitted to medical school.
Nancy Stevens is a magazine and newspaper writer who has been published in the Saturday Review, the New York Times, the Village Voice, and Working Woman.