Nvi, Santa Biblia del Ministro, Texto Revisado 2022, Leathersoft, Azul Marino, Con Índice, Palabras de Jesús En Rojo (Imitation Leather)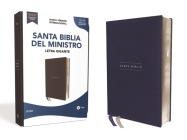 $37.99

Available to SHIP now; STORE PICKUP in 7-10 days
Description
---
Una herramienta esencial para el pastor de hoy
La nueva NVI Biblia del Ministro incluye el texto completo de la traducci n revisada de la Nueva Versi n Internacional y en una conveniente presentaci n con ndice que te permite ubicar el Manual del Ministro de una manera m's r pida.
Dise ada por expertos para el texto de la Nueva Versi n Internacional (NVI), ahora la Biblia del Ministro incluye el exclusivo tipo de letra Comfort Print (R) de Vida ofrece una experiencia de lectura suave que complementa la traducci n de la Biblia al espa ol contempor neo m's le da.
El Manual del Ministro es un recurso pr ctico para el pastor moderno. En l se encuentra todo lo que el l der necesitar para llevar a cabo todo tipo de ceremonias y actos eclesiales. Adem's, funciona como gu a para realizar bodas, funerales, dedicaciones, bautismos, santa cena y mucho m's.
Caracter sticas de la Biblia del Ministro
El manual del ministro incluye diferentes ceremonias y contenido:
Bodas
Funerales
Dedicaciones
Bautismo
Santa cena
Servicio de adoraci n
Cuidado pastoral
Palabras de Cristo en rojo
Tabla de pesas y medidas
Cinta marcadora
Exclusivo tipo de letra Comfort Print (R) de Vida
NVI, Minister's Holy Bible, Revised text 2022, Leathersoft, Navy, Thumb Indexed, Word of Christ in Red
An essential tool for today's pastor
The new NVI Minister's Bible includes the full text of the revised Nueva Versi n Internacional translation in a convenient indexed presentation that allows you to locate the Minister's Manual more quickly.
Expertly designed for the text of the Nueva Versi n Internacional(NVI), the Minister's Bible now features Vida's exclusive Comfort Print (R) typeface for a smooth reading experience that complements the most widely read contemporary Spanish translation of the Bible.
The Minister's Manual is a practical resource for the modern pastor. It contains everything the leader will need to conduct all types of ceremonies and church functions. It also serves as a guide for the celebration of marriage, baptism, the Lord's Supper, and many more.
Characteristics of the Minister's Bible
The minister's manual includes different ceremonies and content:
Weddings
Funerals
Dedications
Baptism
Communion
Worship
Pastoral care
Indexed format
Guide for personal evangelization
Words of the Lord Jesus Christ in red
Table of weights and measures