Bilingual Bible-PR-NIV/Rvr 1960 (Imitation Leather)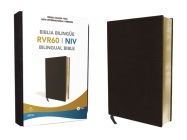 $34.99

Available to SHIP now; STORE PICKUP in 7-10 days
Description
---
One identical message in two different languages and two different translations in the NIV and the RVR1960 Bible.
The Spanish Reina Valera 1960 Revision and the English New International Version are for the first time in history united in one single volume, giving the reader an opportunity of having two translations in two languages for a richer study of the Word of God.
This bilingual Bible offers more than two respected translations of the Holy Scriptures. It also allows a more exhaustive exploration and analytic and comparative study of the texts.
Some of the characteristics to be highlighted are:
Footnotes at the bottom of the page.
Parallel text columns
Table of weights, measurements and coins.