The Last Resort: Jewish South Beach, 1977-1986 (Hardcover)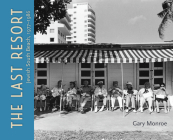 Description
---
Before the high rises, the nightlife, and the fashion scene, Miami's South Beach was a retirement haven for American Jews. In The Last Resort, photographer Gary Monroe presents a collection of images that preserve his observations of this vanished time.
After World War II, Jewish retirees from the Northeast--many of whom had come to America to escape Nazi Germany--found comfort, camaraderie, and culture in the sunny island city of Miami Beach. By the late 1950s, the population was 80% Jewish, and eventually the neighborhood of South Beach became home to a strong community of elderly Jews. A local who grew up in a Jewish household during this time, enchanted by the deep-rooted traditions and close-knit society of the older men and women he saw around him, Monroe set out to capture their world.
Taken over the span of 10 years, Monroe's photographs chronicle the day-to-day activities of the community from sunrise to sunset. Full of energy, love, misery, and heartbreak, these images portray a shared vision of richly lived lives. During this time, card rooms became makeshift temples. People enjoyed sunrise swims in the ocean. The streets were active. Neighbors cared for each other. On Friday evenings, women lit Shabbos candles. Through these scenes, Monroe's work documents the efforts of the aging South Beach residents to maintain their dignity, mores, and lifestyle.
The Last Resort memorializes an era, a culture, and a history. Gary Monroe offers an exquisitely rendered portrait of a special community most people have forgotten.