Bob Ross: A Happy Little Day-to-Day 2024 Calendar (Calendar)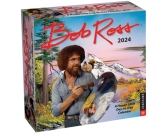 $17.99

Available to SHIP now; STORE PICKUP in 7-10 days
This book cannot be returned. PRINT-ON-DEMAND; printing may add 2-4 business days.
Description
---
A celebration of America's most beloved and iconic art instructor, Bob Ross. Add the true joy of painting to your desk with this happy little day-to-day calendar that features nearly 300 of Bob Ross's signature landscapes and over 60 of his most inspiring quotes about painting, beauty, and life.
A daily dose of Bob Ross's signature landscapes, complete with happy little clouds, trees, and squirrels, and inspiring quotes, shares the joy of painting and his colorful world of "happy accidents."
Features inspirational quotes and iconic paintings from Bob Ross
Full color tear-off pages
Day/date reference on each page
Includes official major world holidays
Recyclable plastic easel backer for desk or tabletop display
About the Author
---
Bob Ross was a painter, art instructor, and the creator/host of PBS's The Joy of Painting, an instructional painting technique television series that ran from 1982 until 1994 and is now streamed avidly by generations of new enthusiasts.