Harley-Davidson: An Illustrated Guide (Hardcover)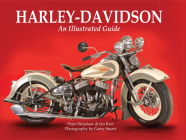 $24.99
WE CAN ORDER THIS FOR YOU (store pickup in 5-14 days)
About the Author
---
Peter Henshaw has had an enthusiasm for anything with wheels from an early age - from bicycles to 500hp tractors. He was the editor of Motorcycle Sport & Leisure for five years before going freelance, and now contributes to a whole range of transport magazines, including MSL, TAG, A to B and Tractor, as well as The Telegraph. He's also written over 30 books, including 10 about bikes, and is an all-year-round motorcyclist who does not own a car.
Ian Kerr is a full time police officer, and his keen intererst in motorcycles, Harley-Davidson in particular, has made him extremely knowledgeable, allowing him to work as a motorcycle journalist in his spare time.
He lives in Buckinghamshire, England.
Garry Stuart has been professionally photographing motorcycles for 20 years, and his work has been published in books and magazines on motorcycles worldwide. His main interest is to document the world of Harley-Davidson motorcycles and their riders, and for this purpose he attends rallies and events all over the USA and Europe.
His photographs have illustrated over a dozen books on the subject of Harley-Davidson, and examples of his current work can be viewed on his website www.harleypics.com.