Oh Dear, Geoffrey! (Hardcover)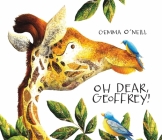 $15.99

WE CAN ORDER THIS FOR YOU (store pickup in 5-14 days)
Description
---
Can this very clumsy giraffe learn to stand tall?

Geoffrey is a very tall, very clumsy giraffe. He tries to make friends with the animals down on the ground, but he just trips, slips, and falls . . . usually flat on his face. Poor old Geoffrey tries everything to fit in, but it's only when he realizes that his height can be an advantage that he stretches out his long neck and finds a host of friends in the trees. Soon he discovers he can find friends just by being himself.
About the Author
---
Gemma O'Neill graduated from University College Falmouth, where she specialized in picture books and illustration. She met the Templar team at the Bologna Book Fair.
Praise For…
---
The cheery, mixed-media illustrations, replete with gentle humor, show Geoffrey and the various animals—meerkats, elephants, rhinoceroses—he tries to befriend, even as he overlooks some small, feathered potential companions who hover nearby. ... Children of unusual height or with characteristics not yet valued are sure to identify with this sympathetic portrayal, while all will admire Geoffrey's perseverance as well as his dogged, hit-or-miss efforts to make friends. A good choice to encourage the development of empathy and show how individual difference is a plus. Oh yes, Geoffrey!
—Kirkus Reviews

With superb artistic detail in these mural-like spreads, a gangly, dejected giraffe wanders a savannah of splendid color and creative design, attempting to make friends. The adorable, chattering gray monkeys and polite bluebirds help Geoffrey become comfortable in his own skin, a wibbly-wobbly, bendy-buckly patchwork of fabrics, newspring, and paint splatterings. This gorgeous (and funny) picture book explores the opportunities found in companionship and nature.
—ForeWord

O'Neill's illustrations do a marvelous job of bringing both Geoffrey and his dusty savannah habitat to life, whether through the dust clouds that erupt as Geoffrey becomes entangled with a herd of elephants; the passel of monkeys clinging playfully to his limbs, neck, and tail; or the resplendently starry sky they gaze into before falling asleep.
—Publishers Weekly

Delightfully written in concrete, alliterative prose with vibrant illustrations, this picture book is a gem.
—Library Media Connection

Simple text with random words in bold make this offering as bright and fun as Geoffrey himself. The text and story are not complicated and would be a quick read for parents, teachers, or librarians to share with preschoolers. The highlight of this title are the illustrations that move with Geoffrey and his bright face. The giraffe's excitement jumps off the page, even when he falls.
—School Library Journal