The Story Orchestra: Swan Lake: Musical Puzzle: Press the note to hear Tchaikovsky's music (Jigsaw)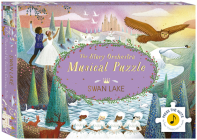 $22.99

Available to SHIP now; STORE PICKUP in 7-10 days
Description
---
Swan Lake musical jigsaw puzzle: Featuring four 10-second sound clips of an orchestra playing from Tchaikovsky's original score, a perfect gift for music lovers and aspiring ballerinas
Sturdy gift box contains: 48-piece puzzle (44 regular pieces, plus 4 shaped pieces with cutouts that give access to the musical buttons on the included frame) and an educational poster; finished puzzle measures 29.7 × 21 cm / 11.7 × 8.3 in.
4 musical buttons to press: Complete the puzzle to see how the story ends and press the musical note inside the shaped pieces to hear the music
Edutainment for ages 5–7: Includes a puzzle frame that gives a concise retelling of the story of Swan Lake and a double-sided poster with information about the composer, music, and the story's ending on one side and the full puzzle image on the other
Piece together the magical adventure of Tchaikovsky's Swan Lake ballet with this unique musical jigsaw puzzle.
Begin with a musical puzzle frame that outlines in illustrations and text the key events of
Swan Lake
– from Prince Siegfried's encounter with a flock of swans after running away from home to his discovery that the most beautiful swan is actually a human princess, Odette, who has been cursed by an evil sorcerer, to how the curse is finally lifted.
Using the full puzzle image on the poster as a reference, put together an enchanting illustration showing the swans, Prince Siegfried and Princess Odette, and their beautiful kingdom. Then press the musical notes to hear the vivid sound of an orchestra playing from Tchaikovsky's original score. Imagine the flock of swan ballerinas spinning gracefully to the shimmering strings and spellbinding harp, the four cygnets dancing in unison to the playful music of two oboes, and more.
Flip the poster over to find additional details on the story's happy ending, as well as biographical information about the composer and how the music connects with the story.  
This musical jigsaw puzzle is the perfect gift to introduce children to classical music.
The Story Orchestra series
brings classical music to life for children through gorgeously illustrated retellings of classic ballet, opera, and program music stories paired with sound clips of orchestras playing from their musical scores.
Also available from the Story Orchestra series
: 
The Nutcracker,The Nutcracker: Musical Puzzle
,
The Magic Flute
,
I Can Play (vol 1)
,
Carnival of the Animals
,
The Sleeping Beauty
,
Swan Lake, The Hall of the Mountain King,
and
Four Seasons in One Day
.
Manufacturer's note:
 please pull the white tab out of the back of the puzzle frame before use. Sound buttons require a firm push in the exact location to work, which may be hard for young children. All sound clips are 10 seconds long.
About the Author
---
Jessica Courtney-Tickle is an illustrator who graduated from Kingston University in July 2014. Her absolute favorite thing to draw or paint is nature, finding a focus on foliage of any kind as well as children's stories about adventure and exploration. She also has a penchant for drawing theater from music makers to dancers and even singing animals. Jessica is most influenced by vintage picture books, travel posters, and folk art as well as numerous painters and printmakers.