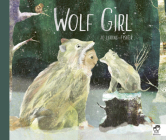 Description
---
Sophy doesn't know how to fit in. She tries to talk at school but the words get stuck in her throat and everyone laughs and whispers behind her back. Upset and alone, Sophy hides away in her room. But then an extraordinary thing happens…
Sophy is whisked away to a magical snowy land where she meets a wolf and her cub. The unlikely trio roll, run and howl together, playing happily in the snow. Sophy has found friends and nothing can ruin her day… until a big, angry bear appears. But Sophy finally finds her voice and finds the courage she's been looking for all along.
This is a story of overcoming the isolating feeling of being shy, finding friends and most importantly, finding your voice.

Praise for Jo Loring-Fisher's other books:

Maisie's Scrapbook (Lantana Publishing) – Winner of the Northern Lights Book Award
'In this lyrical tribute to a family's unconditional and universal love, Loring-Fisher's subtly textured mixed media art weaves these various cultural images into a comforting portrait of an all-embracing and loving family' – Publishers Weekly
About the Author
---
Jo Loring-Fisher is an illustrator, storyteller, and mum of four. She is based in the beautiful city of Bath, England, where she lives with her husband, youngest daughter, and Whippet puppy. She loves the natural world and enjoys creating images using a range of materials including collage, inks, paint, and printmaking. Much of Jo's inspirations comes from observing nature and everyday life. Her other picture books include Taking Time and Just Like You.